Wow! its April Already: Spring Updates
Time Flies
Can you believe we are already in the Spring of 2012 on the second day of April? They say time waits for no man and especially when you are busy and having fun being busy!
Anyway, the purpose of this quick blog update is just to give quick run down of YEP media's whereabouts, what we've been up to and where we are heading the next few months of this fast disappearing year, and we thought we would give this blog a bit of a transformation spring clean to bring in spring time.
Online Media Consulting
So as you may have noticed this blog site has seen nothing but digital tumble weed for the past month because the YEP team work part time and have also been doing bits and pieces for some clients.
We thought we would share one example of what we've been busy doing; the results of a Digital Media and Blogging workshop we delivered for a group of young people over at The Future Melting Pot who are working on a project investigating the reasons behind the August 2011 riots. You can check out their work here. This group will be holding an enquiry at the Council House this Thursday where the young people will have a round table discussion with senior leaders about those horrendous occurrences last year.
Unleash Your Inner Supernova
Our highlight for the month of March has to have been helping to host a pretty amazing event along with Bonafide Supernova, which is part of the collective of fashion blogs we are channelling our creative media skills into developing.
The Bonafide Supernova team held their first ever event at The Studio Birmingham in a bid to spark enthusiasm and present a new way of networking for the modern day woman of the 'future'. Their next event will be taking place in May 2012 and will be all about the Future of Fashion PR so stay tuned for more details on that!
Bloggers Collective
You may have noticed that we decided to postpone our 3rd  Bloggers Collective: How to Build Your Online Community Workshop until the 17th April 2012.
Bloggers Collective is our Monthly Networking Workshops for Online Media Enthusiasts. Our Topics over the next coming months in no particular order are as follows.
How to Build an Online Community
Making Money from your Blog'- Sponsored blog posts: To do or Not to do?
How to Promote your Brand Online/Creating a Media Kit for your online platform
Bloggers Surgery: A Troubleshooting Seminar
From Blogger to Online Journalist: Making the Transition
'It's all in the Brief' (Part 1) – How to get the most out of your graphic designer 
'It's all in the Brief' (Part 2) – How to get the most out of your web designer 
How to Write Online
Improve your Video & Photography  Blog
Bloggers Collective- 'Moving beyond the blog'
We also launched a special offer to attendees of the Unleash Your Inner Supernova event to gain access to future Bloggers Collective Events. Details of this offer can be found here.
If you would like to be kept informed of our bloggers collective events then join our mailing list on the front page of our Website. http://www.yepmedia.co.uk 
The Lost Links/Here I Am Project
Last Year, Daniel from our team was awarded a Level 1 Award from Unltd, the social enterprise charity to deliver a project exploring and addressing intergenerational issues. The project is now taking shape and will kick off with an discussion/conference taking place at Aston University next week Thursday 12th April 2012. For more information about this project and the event visit http://hereiamconference.eventbrite.com.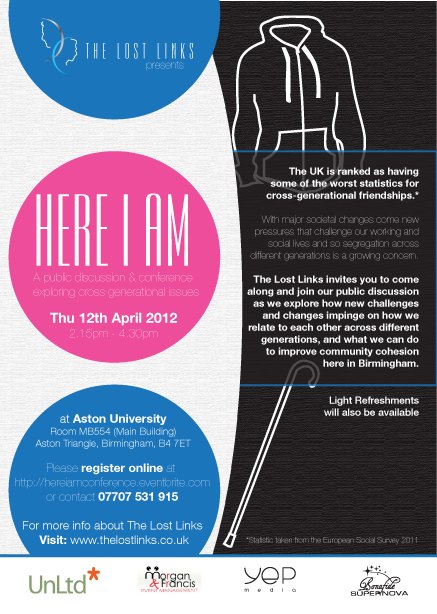 That is all from YEP Media until Next time. Stay tuned for further updates on Bloggers Collective and other events.